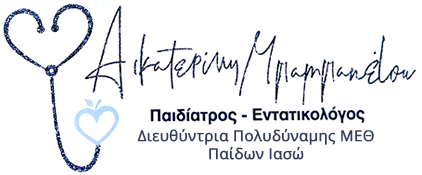 ---
Katerina Babanelou is a pediatrician - intensive, graduate of the Medical School of the University of Patras.
She earned the title of specialty medicine - pediatrics at Children's Hospital. and Agl. Kyriakou, while specializing in intensive care of children in the Intensive Care Unit of Children in the same hospital.
He attended the Master's program "Clinical and Nursing Paediatrics - Research" of the University of Athens as well as the Boston University School of Medicine Postgraduate Program of Pediatric Nutrition.
She is an active participant in Greek and International Conferences of Pediatrics and Intensive Care and is a member of APLS (Advanced Pediatric Life Support) Hellas.
She was a curator of the ICS pediatric cardiac surgery at IASO Hospital from 2014 until February 2017.
Since then she has been a medical partner and a curator of the Multi-Unit Intensive Care Unit of the MITERA Pediatric Hospital, while maintaining a nursing office in Nea Erythraia, Attica.

320 Kifissias Ave. & Sarantaporos 37 | Kifissia
Telephone: 2130325337
Mobile: 6976863906
Email: kater1na@hotmail.com